Kappa Kappa Gamma  
---
DELTA ETA chapter
Kappa Kappa Gamma (ΚΚΓ), also known simply as Kappa or KKG, is a collegiate sorority, founded at Monmouth College in Monmouth, Illinois, United States.
Kappa has a total membership of more than 260,000 women, with 140 collegiate chapters in the United States and Canada and 307 alumnae associations worldwide.
Kappa Kappa Gamma is considered a women's fraternity because it was founded before the term "sorority" was created, but is commonly referred to as a sorority because it only admits women. The fraternity is a founding member of the National Panhellenic Conference (NPC), an umbrella organization that includes 26 American sororities.
The Delta Eta (ΔΗ) Chapter (University of Utah) was founded on November 11, 1932 by 22 brave and determined women. Before they were granted acceptance into Kappa Kappa Gamma, they colonized under the name of Lambda Phi Lambda; they chose the hourglass as their symbol to represent the time (an eventual 13 years) that they waited.
Kappa 101
---
| | |
| --- | --- |
| Nickname | Kappa, KKG |
| Established | 1870 |
| At the U Since | 1932 |
| Philanthropy | Reading is Fundamental, National Alliance for Mental Illness, Kappa Kappa Gamma Foundation |
| Colors | Light Blue & Dark Blue |
| Symbols | Golden Key, Owl, Fleur-de-Lis |
| Flower | Iris |
| Jewel | Sapphire |
| Required GPA | 3.0 from High School and a 2.75 GPA (for previous college classes) |
| Fun Fact | Part of the Monmouth Duo with Pi Beta Phi. (both fraternities have their origins at the same college within three years of one another) |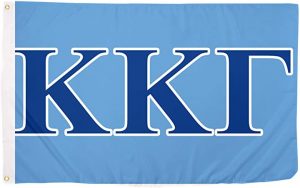 Kappa Flag