ALPHA CHI OMEGA  
---
BETA NU chapter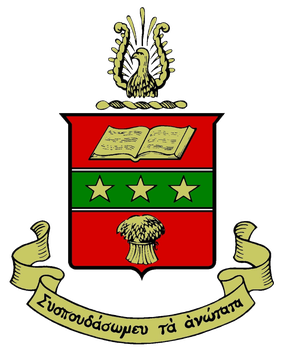 Alpha Chi Omega (ΑΧΩ, also known as Alpha Chi or A Chi O) is a national women's fraternity founded on October 15, 1885 at DePauw University in Greencastle, Indiana.
In the fall of 1885, Professor James Hamilton Howe, the first Dean of the Music School, invited seven young women from the school to a meeting with the purpose of forming a fraternity. Those young women were Anna Allen Smith, Olive Burnett Clark, Bertha Deniston Cunningham, Amy DuBois Rieth, Nellie Gamble Childe, Bessie Grooms Keenan, and Estelle Leonard. Howe collaborated with James G. Campbell, a Beta Theta Pi, to form a national fraternity. Campbell laid out the first constitution and by-laws. This first constitution read: "The object of this fraternity is as follows: To attain the highest musical culture and to cultivate those principles that embody true womanhood." On February 26, 1886, the fraternity was given its formal introduction by a soiree musical.
The Beta Nu Chapter was founded at the University of Utah March 23, 1934.
ALPHA CHI AT THE
U
---
REAL. STRONG. WOMEN.
Together Let Us Seek New Heights.
A-Chi-O 101
---
| | |
| --- | --- |
| Nickname | Alpha Chi, A-Chi-O |
| Established | 1885 |
| At the U Since | 1934 |
| Philanthropy | Domestic Violence Awareness, Alpha Chi Omega Foundation |
| Colors | Scarlet Red, Olive Green |
| Symbols | Golden Lyre |
| Flower | Red Carnation |
| Required GPA | 3.0 from High School and a 2.5 GPA (for previous college classes) |
| Fun Fact | Alpha Chi has an official symphony, adopted in 1914. It reflects our tradition of harmony, it remains popular a century later. |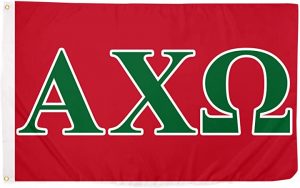 Alpha Chi Flag